Big Top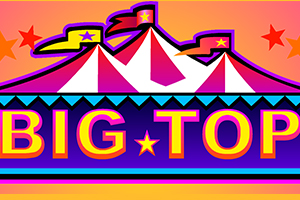 Microgaming are back with their circus themed slot game that you are sure to love if you just give it a try. This slot game is filled with animals and clowns that come together to put on the best possible show. We love the symbols and the general design of this game and think that you will too. Make sure to check out Big Top slot right here at Slot Machine today to see if you can trigger the jackpot prize!
Design 
This game is simple and there are no hidden bonus rounds so what you see is what you get. Microgaming has thought carefully about the characters that should be included and these have been designed to suit the graphics. The game takes place in the big top at the circus with the reels inside of this.
For the symbols, we have some animals that include the tiger, the elephant and the seal. These are all typical animals that you would find at a circus. The playing card royals appear as the lower-value symbols which is what we would usually expect from this developer.
How to Play
Big Top is a really simple game so even those who have never played a slot before will be able to figure it out in no time. The main element of the game involves placing your bet on each spin. You can bet as low as £2.25 or as high as £45 per spin. This can be adjusted using the poker chip over on the left of the reels.
Once your bet is in place, the next step is to press the arrow button over on the right. This will spin the reels and give you the chance to land some winning symbols. Wins are awarded for each combination of symbols across a payline so look out for this. Over on the paytable, you should be able to find out exactly how much each winning combination is worth.
Game Features
If you happen to land the clown scatter symbol anywhere on the reels, you will likely be given a very large payout. You'll need to land three or more of these at once with a higher payout for those who land even more. This is the main feature in this game so make sure to look out for it as you spin.
The wild symbol also appears in Big Top and you might recognise this from other games that are quite similar. This symbol will appear on your reels and swap out for any other symbol. Of course, it won't substitute for the scatter – you'll need to land this yourself. The wild looks like another clown and has the word Wild on it!
Big Top will take you on a journey and you'll be sure to have a lot of fun. Whether you are going for gold and placing the max bet or you are planning on building your cash, you should be able to have a lot of fun. Make sure to give this game a try today right here at Slot Machine to see what kind of jackpot you can get your hands on!
Game Stats
Paylines
9
Min. Bet
£2.25
Max. Bet
£45
Bonus Round
Scatter Pays, Jackpot